The UN General Assembly resolution 54/115 recognized the day of Vesak as an international day of observance given its significance for Buddhists all over the world. The Vesak Festival was celebrated successfully at UNESCO Headquarters in Paris on 23rd May 2019 by the Permanent Delegation of Sri Lanka to UNESCO in collaboration with Member States of the Asia Pacific Group.
The event, on the theme, 'Buddha's Teaching for Building Sustainable Peace Through Multicultural Education and Communication Influenced by the Thripitaka' was graced by Former Senior Cabinet Minister Mr. Athauda Seneviratne as the Chief Guest. The key note speech on 'Fostering Cross-Cultural Understanding and Maintaining Peace with Buddhist Teachings' was delivered by Prof. Jun Hong Lu JP, Buddhist Master, Chairman of the Australia Oriental Media Buddhist Charity Association.
​
The Opening Ceremony comprised of religious blessings by the Maha Sangha led by the Most Venerable Parawahera Chandarathana Thero, Chief Incumbent of the International Buddhist Centre and messages of peace delivered by representatives of other religious faiths. Delivering the welcome speech, Ambassador Athauda stressed that 'Buddha's teachings have always promoted sustainable peace and in today's world it has become paramount to communicate these teachings with the sole purpose of creating harmony among different cultures and societies.'
Venerable Phra Shakyavongsvisuddhi (Dr. Anil Sakya) a renown Buddhist Monk from Thailand graced the occasion as a Speaker enlightening the audience with in depth analysis of how Buddha's teachings could help build sustainable peace in the world. Ven. Shakyavongsvisuddhi was awarded a special Ecclesiastical title of 'Phra Shakyavongsvisuddhi' in 2014 by His Majesty King Bhumibol Adulyadej of Thailand and is currently the Rector for the World Buddhist University and Visiting Professor in many Universities all over the world.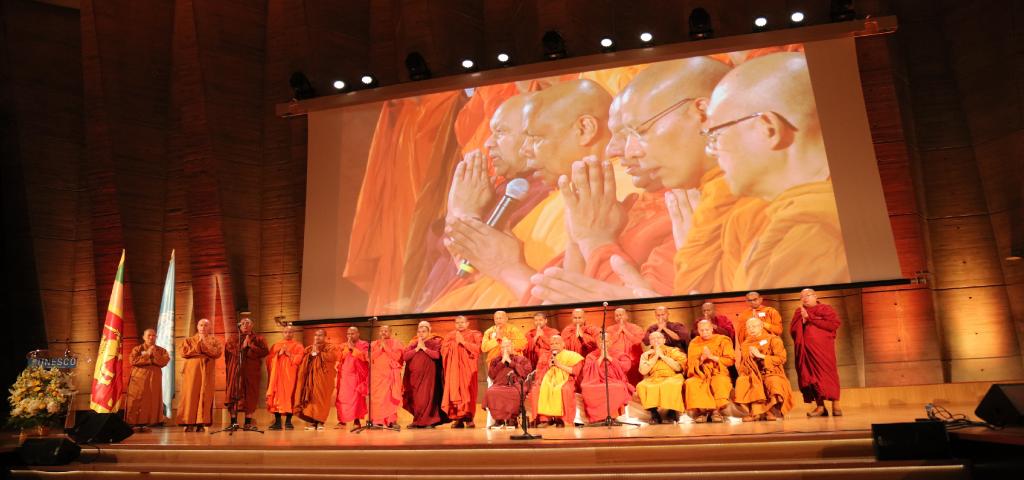 ​
A speech was made also by Ven. Professor. Mahinda Deegalle, Professor of Study of Religions, Philosophies and Ethics of the Bath Spa University of Great Britain who spoke on Buddhism as a Global Civilizational Force highlighting how the 'tripitaka' was the most important and critical ingredient in the Buddhist civilizational force which empowered, inspired and combined peoples, their thoughts, practices, cultures and kingdoms.
The Opening Ceremony was a resounding success and was attended by over Thousand guests including members of the Buddhist clergy, other religious dignitaries, politicians representing the French Parliament, Members of the Diplomatic corps and Permanent Delegates accredited to UNESCO.
​
31st May 2019
Embassy of Sri Lanka in Paris, France