UNESCO Director-General Irina Bokova affirmed the key role of 'soft power' drivers to achieve Sri Lanka's vision of sustainable development and reconciliation, during a public lecture at the Lakshman Kadirgamar Institute for International Relations and Strategic Studies in Colombo, on 16 August, 2016.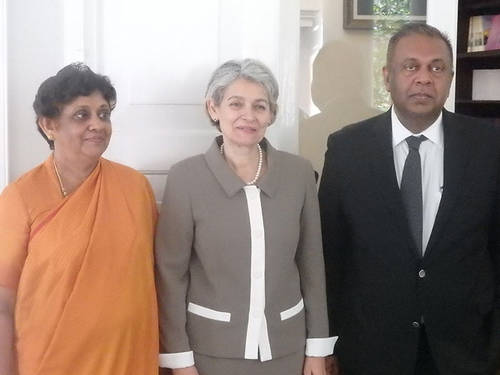 The Director-General paid tribute to the late Mr Kadirgamar, Sri Lanka's three times Foreign Minister, assassinated in 2005, as 'a great statesman, and politician, a man of intellect and most of all a great humanist devoted to human rights and dignity, and to peace in Sri Lanka on the basis of respect and dialogue." 
The Institute is one of his legacies, to provide insights and recommendations that advance justice, peace, prosperity and sustainability.
"These values have deep roots in Sri Lanka – they are interlinked and can only be taken forward together. This requires a new, comprehensive approach to human development and sustainability," said Ms Bokova.
The Minister of Foreign Affairs of Sri Lanka, the Honourable Mangala Samaraweera, recalled the inspiration that the late Mr Kadirgamar drew from the preamble of UNESCO's Constitution on building peace in the minds of people, which he often quoted.
Minister Samaraweera noted that the Director-General's comes at « an important juncture, as we seek to build a new Sri Lanka that protects  human rights and dignity, celebrates the multi-ethnic, multi-religious and multi-cultural nature of our society, empowers women, upholds rule of law and freedom of the media, preserves the environment and gives priority to ensuring the best education possible. »
He noted that Sri Lanka enjoys a special relationship with UNESCO, having become a member in 1949, six years before it joined the United Nations. 
Today, as never before, he said, « we are following the principles of UNESCO in the reconciliation and development process. »
Recalling that Sri Lanka has suffered the terrible costs of 26 years of conflict, the Director-General affirmed that "the country is guided today by a new vision of peace, build on respect, on dialogue, on promoting a new horizon for all women and mean, drawing on Sri Lanka's rich and great history of diversity," said the Director-General. "I wish to pledge here UNESCO's support to Sri Lanka in all its efforts to consolidate gains, to catalyze new progress."
She outlined the promise of the 2030 Agenda for Sustainable Development and the Paris Climate Change Agreement, and cited the scope of UNESCO's partnership with Sri Lanka to take it forward, including through the South Asian Centre for Teacher Development at Meepe, the South and Central Asian Man and the Biosphere Network, the promotion of cultural heritage through eight sites inscribed on the World Heritage List, and the recent passing of the Right to Information Act.
"I look forward to deepening UNESCO's partnership with Sri Lanka," she said, especially to advance education for peace and human rights, to bolster reconciliation through new skills for understanding and solidarity, to strengthen resilience through scientific cooperation, and to promote cultural heritage and diversity as platforms for dialogue, as well as freedom of expression."
Ahead of the lecture, Ms Bokova voiced her support for the work of the Secretariat for Coordinating Reconciliation Mechanism. 
Its Secretary-General, Mr Mano Tittawella, outlined a range of measures to establish transitional justice mechanisms that will function as independent institutions; to promote national unity and reconciliation; to coordinate with international agencies and lead grassroots consultation and communication campaigns.
The Director-General identified entry points for UNESCO, in particular through education for peace and human rights, work with youth, and collaboration with its networks and institutes, including the Mahatma Gandhi Institute of Education for Peace and Sustainable Development in New Delhi and the Asia-Pacific Centre of Education for International Understanding in Seoul.
Source: http://www.unesco.org/