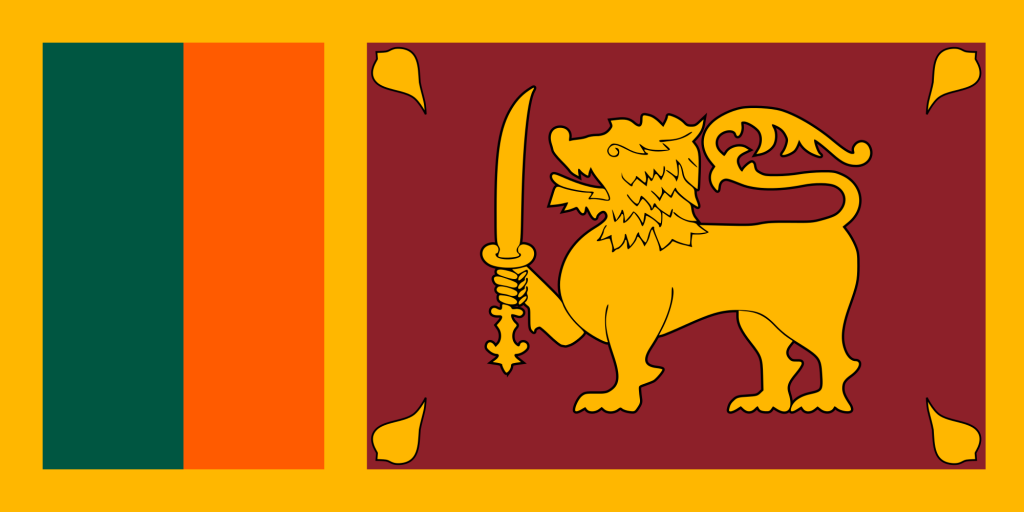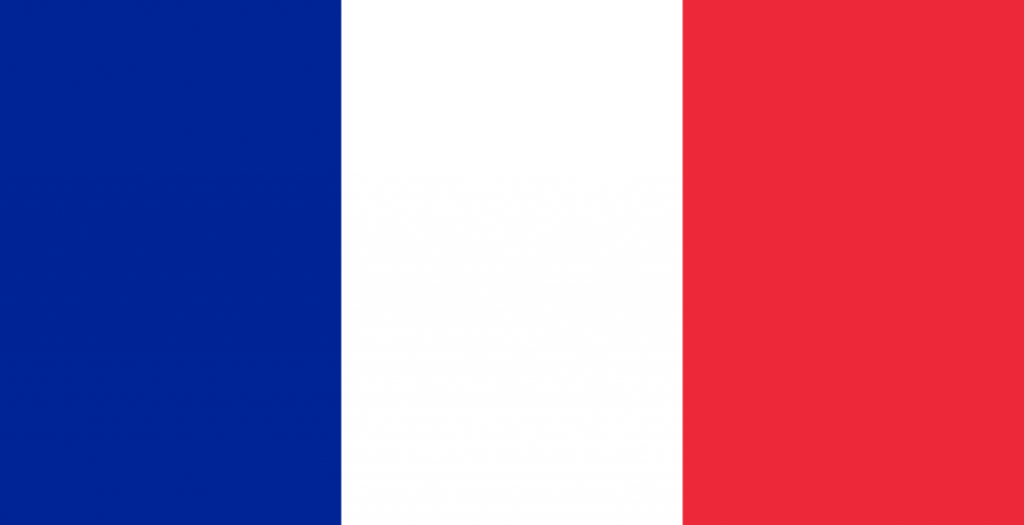 Country Profile

Key Economic Indicators of France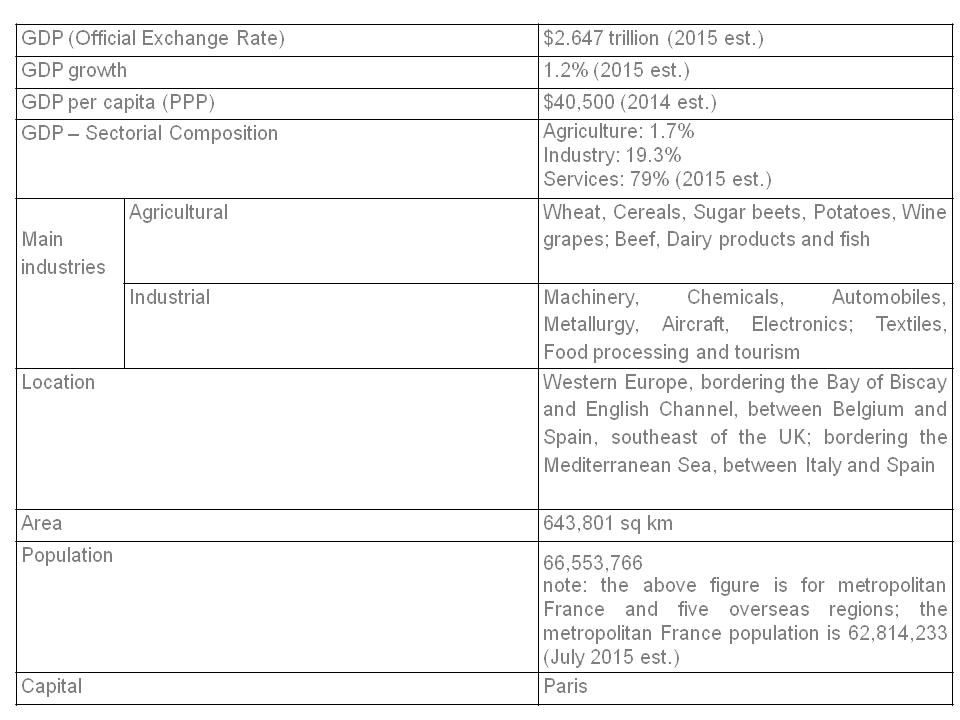 1.2 Economic Overview
The French economy is diversified across all sectors. 
The government has partially or fully privatized many large companies, including Air France, France Telecom, Renault, and Thales. However, the government maintains a strong presence in some sectors, particularly power, public transport, and defense industries. 
With more than 84 million foreign tourists per year, France is the most visited country in the world and maintains the third largest income in the world from tourism. 
France's leaders remain committed to a capitalism in which they maintain social equity by means of laws, tax policies, and social spending that mitigate economic inequality. 
France's real GDP increased by 0.4% in 2014. The unemployment rate (including overseas territories) increased from 7.8% in 2008 to 10.5% in 2014. Youth unemployment in metropolitan France decreased from a high of 25.4% in the fourth quarter of 2012 to 24.3% in the fourth quarter of 2014. Lower-than-expected growth and high spending have strained France's public finances. The budget deficit rose sharply from 3.3% of GDP in 2008 to 7.5% of GDP in 2009 before improving to 4.3% of GDP in 2014, while France's public debt rose from 68% of GDP to more than 92% over the same period. 
Elected on a conventionally leftist platform, President Francois HOLLANDE surprised and angered many supporters with a January 2014 speech announcing a sharp change in his economic policy, recasting himself as a liberalizing reformer. The government's budget for 2014 shifted the balance of fiscal consolidation from taxes to a total of $24 billion in spending cuts. In December 2014, HOLLANDE announced additional reforms, including a plan to extend commercial business hours, liberalize professional services and sell off $6.2-12.4 billion in state owned assets. 
France's tax burden remains well above the EU average and income tax cuts over the past decade are being partly reversed, particularly for higher earners. The top rate of income tax is 41%. The government is allowing a 75% payroll tax on salaries over $1.24 million to lapse.
1.3. External Sector


Source: CIA World factbook
2.    Sri Lanka's Trade with France
France is one of the most important trading partners for Sri Lanka, accounting for US$ 426.20 million worth of total trade turn over in 2014 which is the highest compared with the previous years and can be also ranked as the 09th Sri Lanka exporting partner in the year 2014. 
As seen from the table given below, the trade between the two countries has been fluctuating over the years. 
The trade balance has been in favour of Sri Lanka during the last nine years except 2005, 2008 and 2011. 
Table I: Sri Lanka's Trade with France from 2005 up to 2015 Nov;
(Value in US $ million)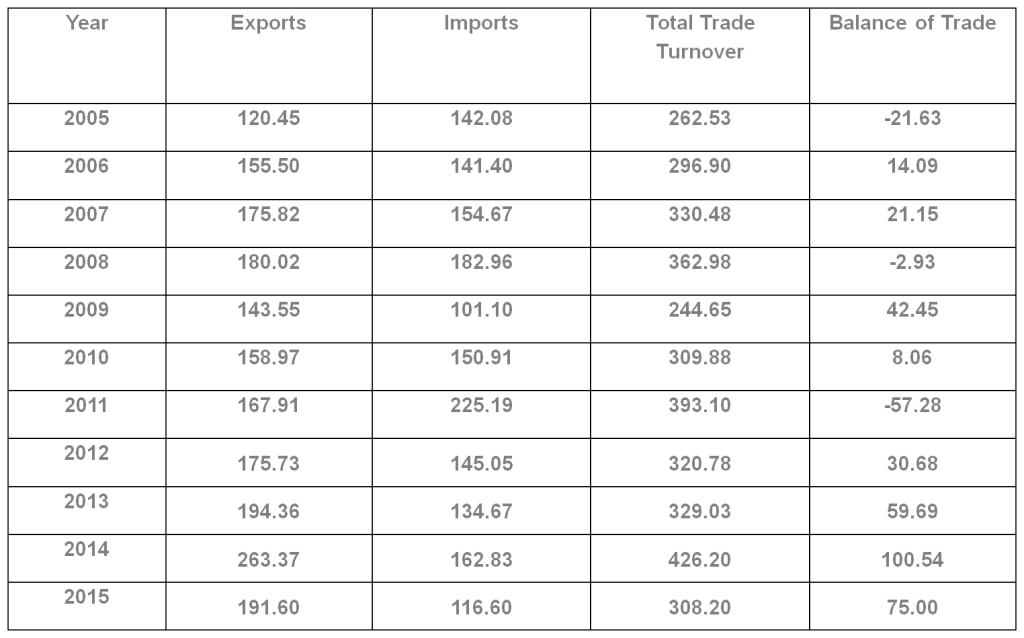 Source: Sri Lanka Customs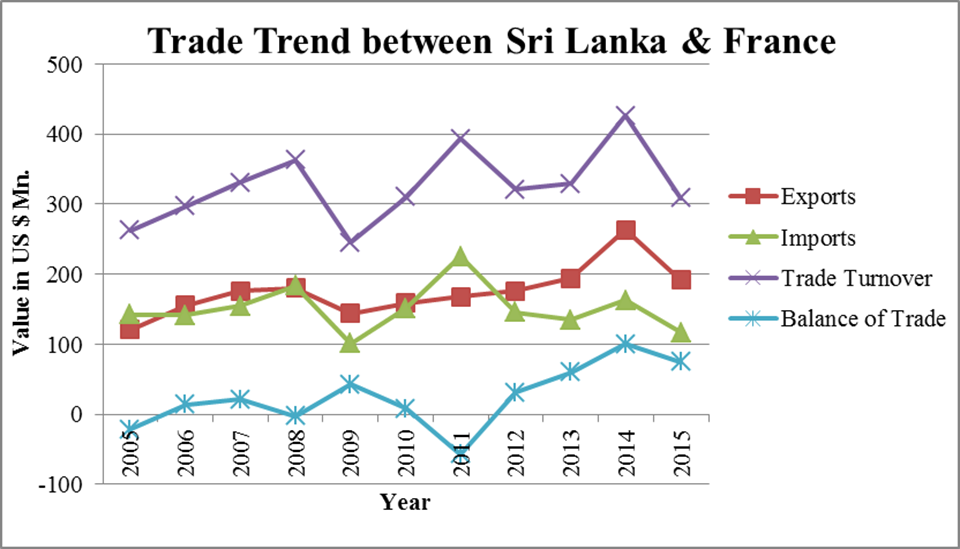 2.1 Sri Lanka's Exports to France
Sri Lanka's exports to France have shown an increasing trend during the last nine years and in 2014 it reach the peak level, US $ 263.37 million, however Sri Lanka export to France in 2015 decrease  due to decrease of export of apparel.
Apparels has been the main export item from Sri Lanka to France, which accounted for 61.96% of total exports to France in 2014 and 58.23% in 2015, and export of apparel products has raised by 43% comparing with year 2013.
The other major export items to France were; vulcanized rubber , Fish, Coconut, abaca, Tea (2.79%), Tricycles, scooters, pedal cars and similar wheeled toys, Retreaded or used pneumatic tyres of rubber , Coconuts, etc.
Table 2: Sri Lanka's Major Exports to France 2010 - 2015
(Value in US $ Million)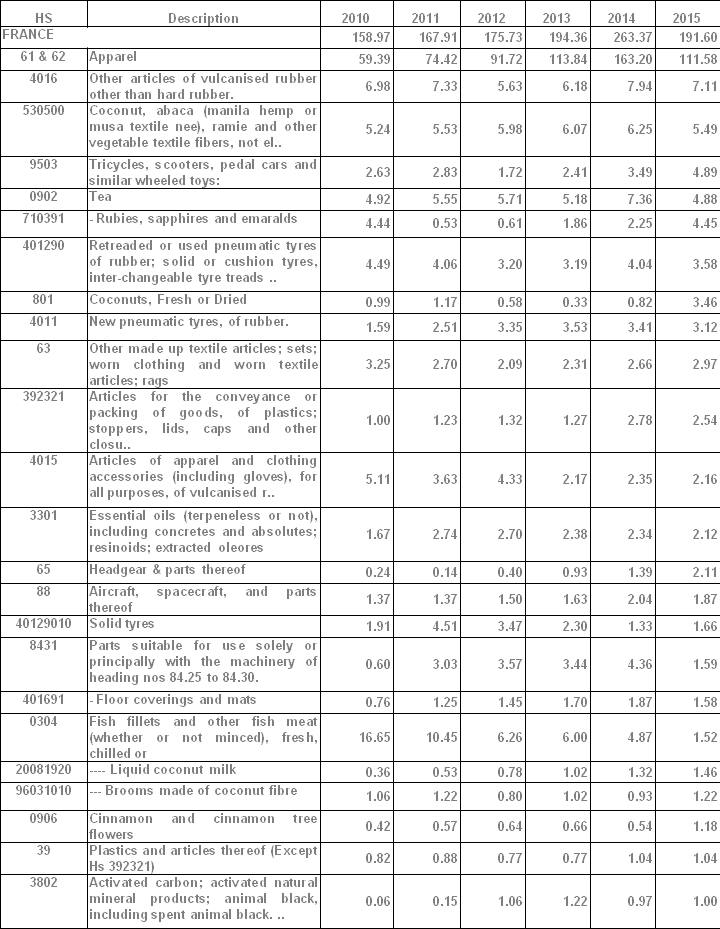 Source: Sri Lanka Customs
2.2.    Sri Lanka's imports from France
Sri Lanka's total imports from France have been fluctuated during the period of past nine years and in 2011 recorded its peak level, US $ 225.19 million. 
The total value of imports from France in 2013, US $ 134.67 million has increased to US $ 162.83 million or by 21% in 2014, however in 2015 total imports from France decrease due to decrease of Iron and Steel and Aircraft, spacecraft, and parts from France.
Medicaments was the main importing item to Sri Lanka from France in 2015 and which accounted for 11.5% of the total value of imports and which was a sudden raised product. 
Table 3: Sri Lanka's Major Imports from France 2010 – 2015
(Value in US $ Million)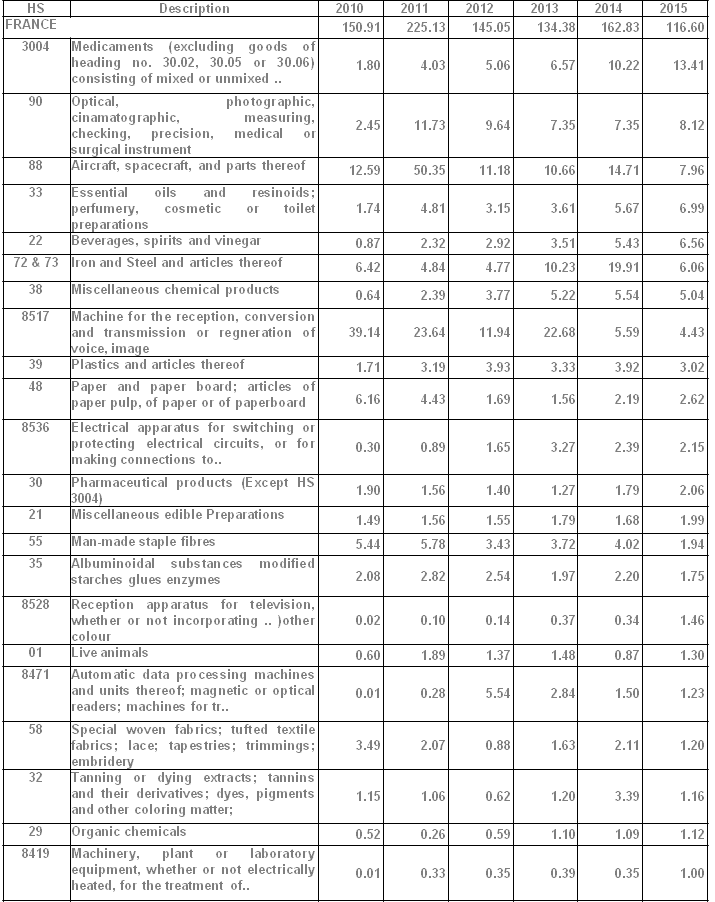 Source: Sri Lanka Customs
Market Share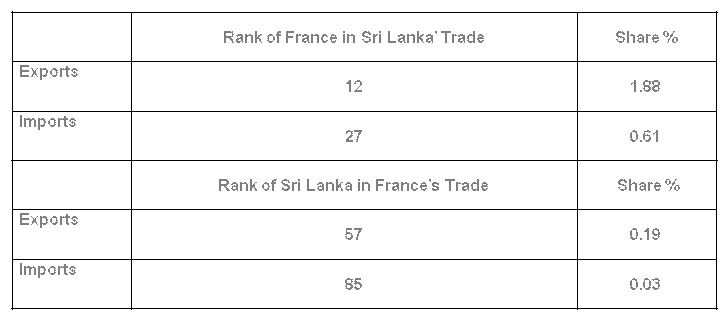 Source: SL Customs, Trade Map
3.    Potential exportable items to France
Value in US $ Mn.

Source: Trade Map