The Director-General of the United Nations Educational, Scientific and Cultural Organization (UNESCO), Irina Bokova, undertook an official visit to Sri Lanka from 14 – 17 August 2016 at the invitation of the Government of Sri Lanka.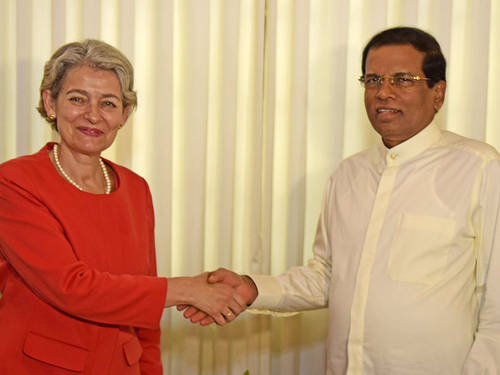 (Director General of UNESCO meeting His Excellency the President)
During the visit, Director-General Bokova called on President Maithripala Sirisena on 17 August 2016. She also held meetings with Foreign Minister Mangala Samaraweera, Minister of Education Akila Viraj Kariyawasam, Minister of Science, Technology & Research Susil Premajayantha and Minister of Higher Education & Highways Lakshman Kiriella.
 On 14 and 15 August, she visited the ancient city of Polonnaruwa, the Sigiriya rock fortress, and the sacred city of Kandy that have been inscribed in the UNESCO World Heritage List. She appreciated very much the diverse and the deep rooted cultural heritage of the island. While in Kandy, the Governor of the Central Province Mrs. Niluka Ekanayake hosted the Director-General to a dinner at the Garand Kandian Hotel on 15 August 2016.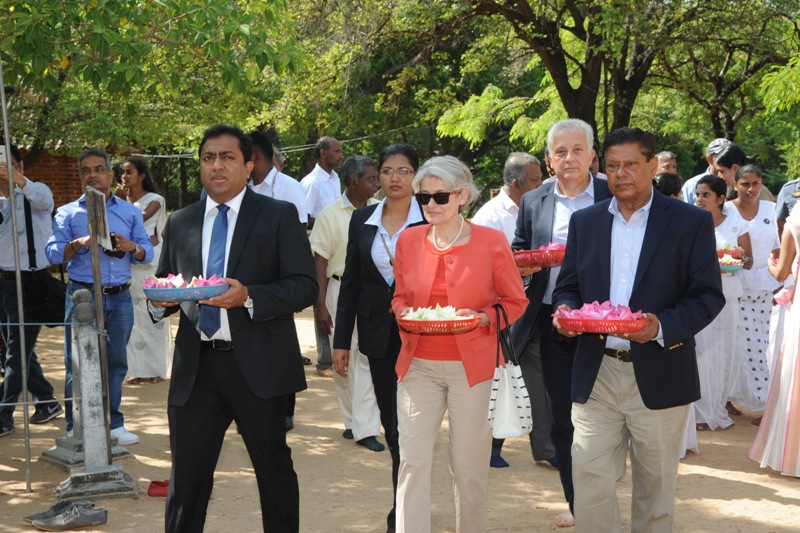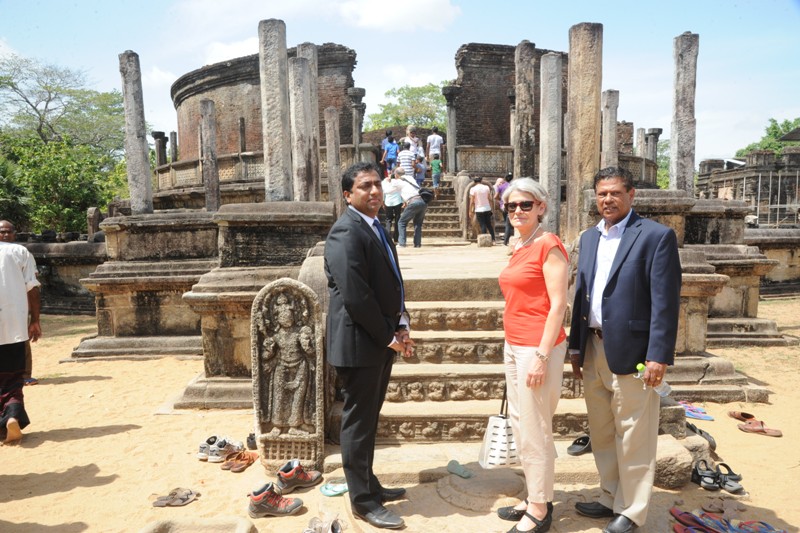 (Visiting Polonnaruwa , accompanied by Minister of Education Akila Viraj Kariyawasam and Ambassador Ranaviraja)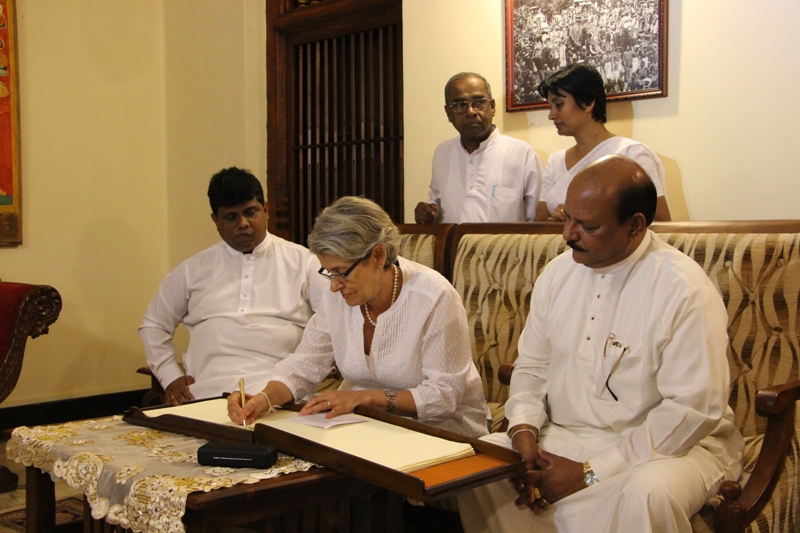 (Director -General of UNESCO signing the visitor's book at Kandy Dalada Maligawa, in the presence of Chief Minister of the Central Province and Diyawadana Nilame)
Director-General Bokova addressed a Science Forum held under the theme 'Science and Technology Education', by the Ministry of Science, Technology & Research on 16 August in Colombo, and also took part in the Education Forum held under the theme 'Quality Education through Effective Teacher Development' on 17 August, which was convened by the Ministry of Education at the South Asian Centre for Teacher Development, in Meepe which is an institute that was established in 2011 with the assistance of UNESCO.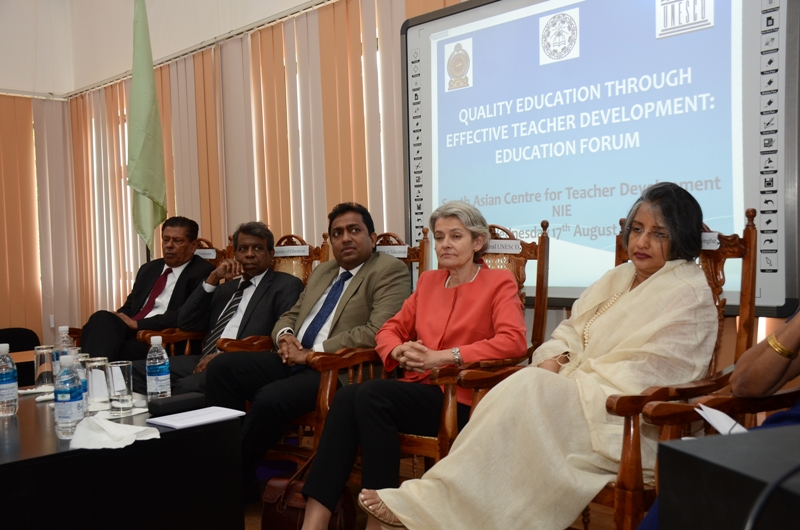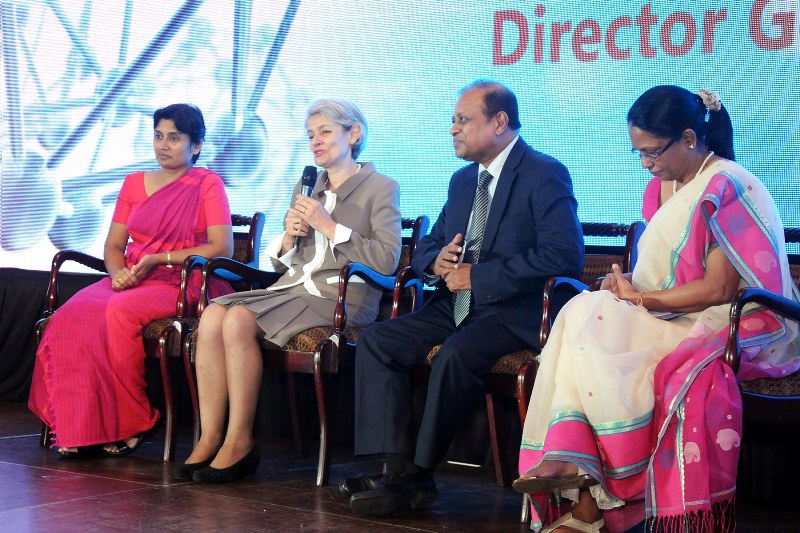 (Speaking at the Education and Science sector forum)
On 16 August the Director-General delivered a lecture on 'Soft Power for Peace and Development–UNESCO and the Sustainable Development Goals (SDGs)' at the Lakshman Kadirgamar Institute of International Relations and Strategic Studies (LKIIRSS) on the invitation of ' the Minister of Foreign Affairs, in his capacity as Chair of the Board of Directors of LKIIRSS.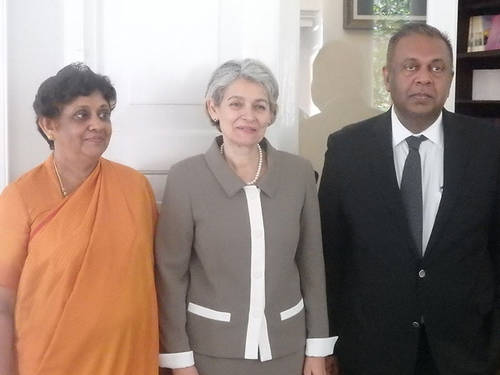 (Director-General with Minister of Foreign Affairs Mangala Samaraweera and Mrs. Suganthie Kadiragamar)
The Director-General also participated at a cocktail and a dinner hosted by the Minister of Foreign Affairs and Minister of Education on 16 and 17 August respectively.
Ambassador Tilak Ranaviraja, Ambassador of Sri Lanka in Paris and the Permanent Delegate of Sri Lanka to UNESCO accompanied the Director-General throughout the visit.
Embassy of Sri Lanka
France
05 September 2016