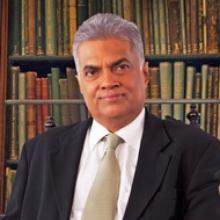 Hon. Ranil Wickremesinghe was sworn in as the Prime Minister of Sri Lanka for the fourth time on 21 August 2015.

He is the Leader of the United National Party (UNP), Sri Lanka's largest political party, which is a constituent member of the National Unity Government led by H.E. the President Maithripala Sirisena. 

Hon. Wickremesinghe was first appointed as the Prime Minister from 1993 - 1994 after the assassination of President Ranasinghe Premadasa. He was also elected as the Prime Minister from 2001 - 2004 when the United National Front Government won the General Elections in 2001.