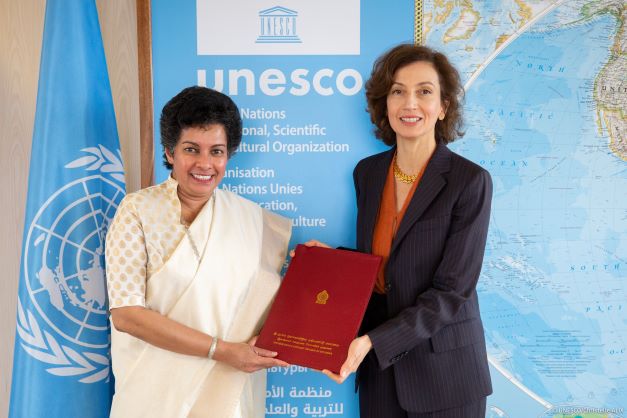 Sri Lanka's Permanent Delegate to the United Nations Educational, Scientific and Cultural Organization (UNESCO) Manisha Gunasekera presented her Letters of Credence to the
Director General of UNESCO Audrey Azoulay on Tuesday 21 March 2023 at the UNESCO Headquarters in Paris. The ceremony entailed the presentation of credentials followed by
a meeting with the Director General.
At the meeting, Ambassador Gunasekera reiterated Sri Lanka's strong commitment to maintaining its proactive engagement with UNESCO in areas of shared interest and relevance encompassing education, cultural heritage, environment and the sciences.
Recalling the country's longstanding close relations with UNESCO since the early days of the organization, Ambassador Gunasekera referred to the 75 th anniversary of Sri Lanka's
membership of the UN body which will be commemorated in 2024. Director General Azoulay welcomed Sri Lanka's strong and abiding ties with UNESCO as a testimony to the
enduring significance of the organization to members states.
The discussion focused on Sri Lanka's collaboration with UNESCO in sectors of relevance and the means of further enhancing existing cooperation. Director General Azoulay
appreciated Sri Lanka's valued contribution and commitment to UNESCO, and expressed her support towards the country's continued engagement with the organization.
Ambassador Gunasekera also holds the post of the Ambassador of Sri Lanka to France. She is a career diplomat with 27 years in the Sri Lanka Foreign Service.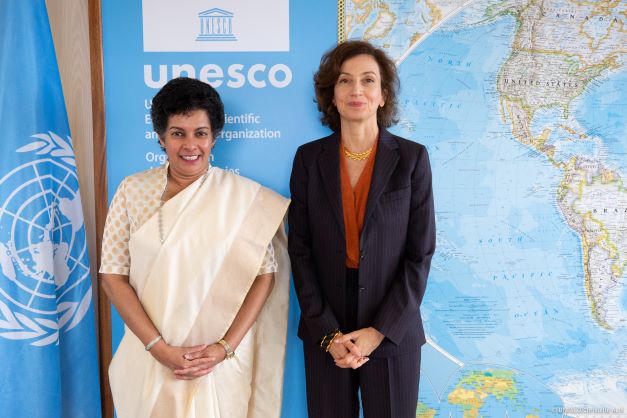 La Déléguée permanente de Sri Lanka auprès de l'Organisation des Nations unies pour l'éducation, la science et la culture (UNESCO), Manisha Gunasekera, a présenté ses lettres de Créances à la directrice générale de l'UNESCO, Audrey Azoulay, le jeudi 21 mars 2023 au siège de l'UNESCO à Paris. Cette cérémonie a débuté par la présentation des Lettres de Créances de la Déléguée permanente et a été suivie par une entrevue avec la Directrice générale.
Durant cette entrevue, S.E. Madame Gunasekera a réitéré la ferme volonté de Sri Lanka à maintenir son engagement proactif envers l'UNESCO dans les domaines des intérêts communs et pertinents tels que l'éducation, l'héritage culturel, l'environnement et les sciences. 
Rappelant les relations étroites que le pays entretient de longue date avec l'UNESCO, S.E. Madame Gunasekera a évoqué le 75e anniversaire de l'adhésion de Sri Lanka à l'Organisation des Nations Unies, qui sera célébré en 2024. La Directrice générale a salué les liens solides et durables de Sri Lanka avec l'UNESCO, un témoignage, selon cette dernière, de la pertinence de l'Organisation auprès des États membres. 
Les discussions ont porté sur la coopération de Sri Lanka avec l'UNESCO dans des domaines pertinents et sur les moyens de renforcer cette dernière. Audrey Azoulay a souligné la contribution et l'engagement de Sri Lanka à l'UNESCO et y a exprimé son soutien. 
S.E. Madame Gunasekera, diplomate de carrière depuis 27 ans au sein du corps diplomatique sri lankais, est également Ambassadrice de Sri Lanka en France
Ambassade de Sri Lanka
Paris, France
28 mars 2023