Deputy Minister of Foreign Affairs Dr. Harsha de Silva requested the U.S. government to urge American businesses to invest in Sri Lanka. This was emphasized at several bilateral discussions he held with U.S. officials in Washington D.C. on Tuesday, August 16th.
 
The Deputy Minister was on a brief visit to the U.S. capital to continue Sri Lanka's expanding engagement with the United States on multiple areas of cooperation.
 
The Deputy Minister met with U.S. Assistant Secretary of State for South and Central Asian Affairs Nisha Biswal, Assistant Secretary of State for Democracy, Human Rights and Labour Tom Malinowski, Assistant Secretary of State for Commerce Arun Kumar and Assistant U.S. Trade Representative for South and Central Asia Michael Delaney, Deputy Assistant Secretary of State for Trade Policy and Programmes William Craft, and Deputy Vice President of the Millennium Challenge Corporation Thomas Kelly.
 
During his conversations, the Deputy Minister briefed the officials on recent developments in Sri Lanka with respect to reconciliation as well as economic and investment policy reforms. Recalling the government's twin policy objectives of reconciliation and development, he reiterated the government's aim to ensure a peace dividend for the people, for the country to progress toward enduring peace and development.
 
The U.S. government officials acknowledged the vast progress Sri Lanka has made since the government came into office last year. The regular visits by high level U.S. officials to Sri Lanka mirror the interest and the potential for multifaceted engagement with the United States in the burgeoning bilateral relationship. Ongoing cooperation with Sri Lanka under the Millennium Challenge Corporation (MCC) since December 2015 is yet another important element of U.S. bilateral development assistance to Sri Lanka. It was reiterated that U.S. engagement in Sri Lanka through its development agencies such as United States Agency for International Development (USAID) and MCC will continue to evolve to assist Sri Lanka in meeting its needs and priorities, both in short and long-term.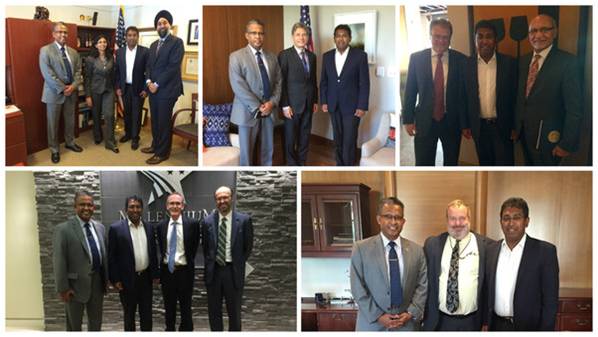 Embassy of Sri Lanka
Washington D.C.
 
 August 17, 2016