The Consulate General of Sri Lanka with the facilitation of the Ministry of Industry and Commerce of Sri Lanka participated in the 13th  China- ASEAN Expo(CAEXPO) from 11th – 14th September 2016 in Nanning, Guangxi Province. This is the first time that Sri Lanka participated in a trade and investment Forum in Guangxi province. Guangxi province is the only province in China which connects to Southeast Asia by land and water.
Sri Lanka was accorded the Special Guest Country status at the 13th China-ASEAN Expo and is the third country to have been given this honour. Previously South Korea and Australia were accorded "Special Guest Country status".  
40 Sri Lankan companies in the sectors of handicrafts and giftware, gem and Jewellery, leisure, food and beverages and medicinal products participated in the event.
The Opening ceremony of CAEXPO was ceremonially declared open by Hon. Zhang Gaoli, Vice Premier of China and the leaders of the 10 ASEAN countries made opening remarks. Hon. Rishad Badiutheen, Minister of Industry and Commerce who led Sri Lanka's delegation to the CAEXPO had the rare honour of also addressing the ASEAN gathering. The Opening ceremony was graced by the Prime Minister of Vietnam, the Prime Minister of Cambodia, Vice President of Myanmar, Deputy Prime Minister of Lao PDR, Deputy Prime Minister of Thailand, Second Minister of Foreign Affairs and Trade of Brunei, Minister of International Trade and Industry of Malaysia, Senator of The Philippines, Minister of State of Trade and Industry of Singapore and a Representative of the Minister of National Export Development of Indonesia.
The Sri Lanka Country Pavilion was officially inaugurated by Madam Liu Xinwen/ Deputy Director General of the Standing Committee of the People's Congress of Guangxi and Hon. Rishad Bathiudeen in the presence of the Consul General of Sri Lanka in Guangzhou, Representatives of the participating companies and Media personnel from Sri Lanka and China.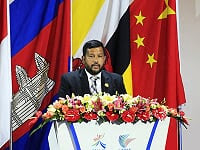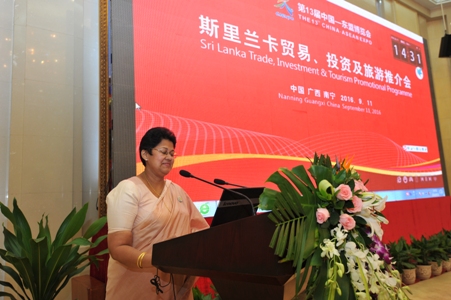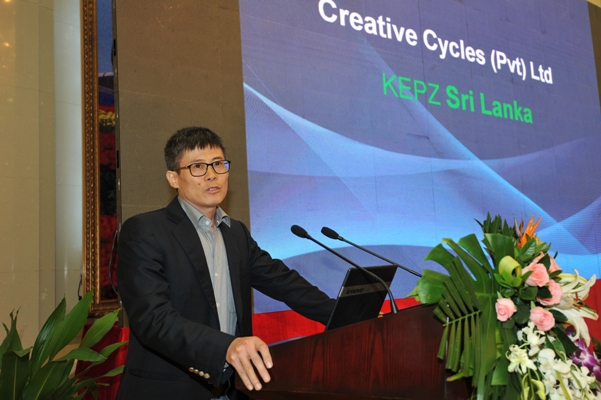 The Consulate General organized a Trade, Investment and Tourism Promotion Forum on the sidelines of CAEXPO on the afternoon of the 11th of September in order to generate concrete outcomes to Sri Lanka's participation as Special Guest country. The Forum was very well attended by entrepreneurs from mainland China. Presentations were made by officials from the Board of Investment, Sri Lanka Tea Board, National Gem and Jewellery Authority, Department of Commerce, The National Design Centre and Sri Lankan Airlines on their respective sectors. This was followed by an interactive discussion with the attendees.
The CAEXPO Trade Fair attracted more than 160,000 professional visitors from mainland China.

Consulate General of Sri Lanka
Guangzhou
28th September 2016