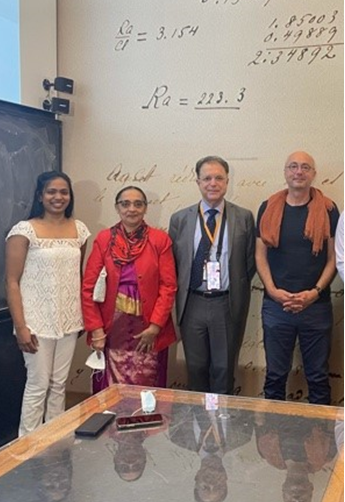 On Thursday 08th July 2021, the Ambassador met with Dr Pierre Anhour, Director International Division of the Curie Institute, at the famous garden of Marie Curie.
Curie institute in Paris is the world-renowned cancer research institute. Ambassador Hirimburegama visited the Lab of Prof Emmanuel Farge where leading research on application of physics for modern cancer research was shown and the Immunotherapy lab, at the hospital attached to the Curie Institute where the research studies and medical treatment are applied simultaneously for cancer patient care.
Ambassador Hirimburegama also met with the hospital Palliative care team, Dr. Alexis Burnod, Head of the Department of Palliative care, having a multidisciplinary team that consisted of various specialties. The importance of early supportive care for cancer patients was highlighted. Proper planning given for each probability in a patient's course of disease makes this facility much important thereby increasing the quality of patient's life. It was interesting to learn that the Palliative care department arrange care packages from the beginning of the diagnosis and follows throughout the course of the treatments.
Having had a discussion with the CEO of the Curie Institute, Prof Pierre Fumoleau, regarding collaborations with the Apeksha Cancer hospital and cancer research with universities, curie Institute is happy to organize collaborations with Sri Lanka and provide services for a win-win situation.
Furthermore, it was agreed to organize an exchange program of medical professionals involved in cancer patients especially with the Apeksha hospital/ Cancer hospital of Sri Lanka and PGIM.
Dr.Remi Dendale, the Head of the Department of Protontherapy, Protontherapy Center in Orsay also expressed his interest to work with Sri Lanka. Proton therapy is especially for pediatric patients suffering from cancer, a facility not available in Sri Lanka. Furthermore, it was discussed on how this innovative technology could be introduced to patients in Sri Lanka.
A team from Curie Institute hopes to visit Sri Lanka in December, to sign an agreement with the Ministry of Education and the Ministry of Health for collaborations with the Curie Institute in Paris. For cancer treatment including Palliative treatment and research on indigenous medicinal plants research as treatment for cancer that will be beneficial for both France and Sri Lanka.
Embassy of Sri Lanka Paris
13.07.2021