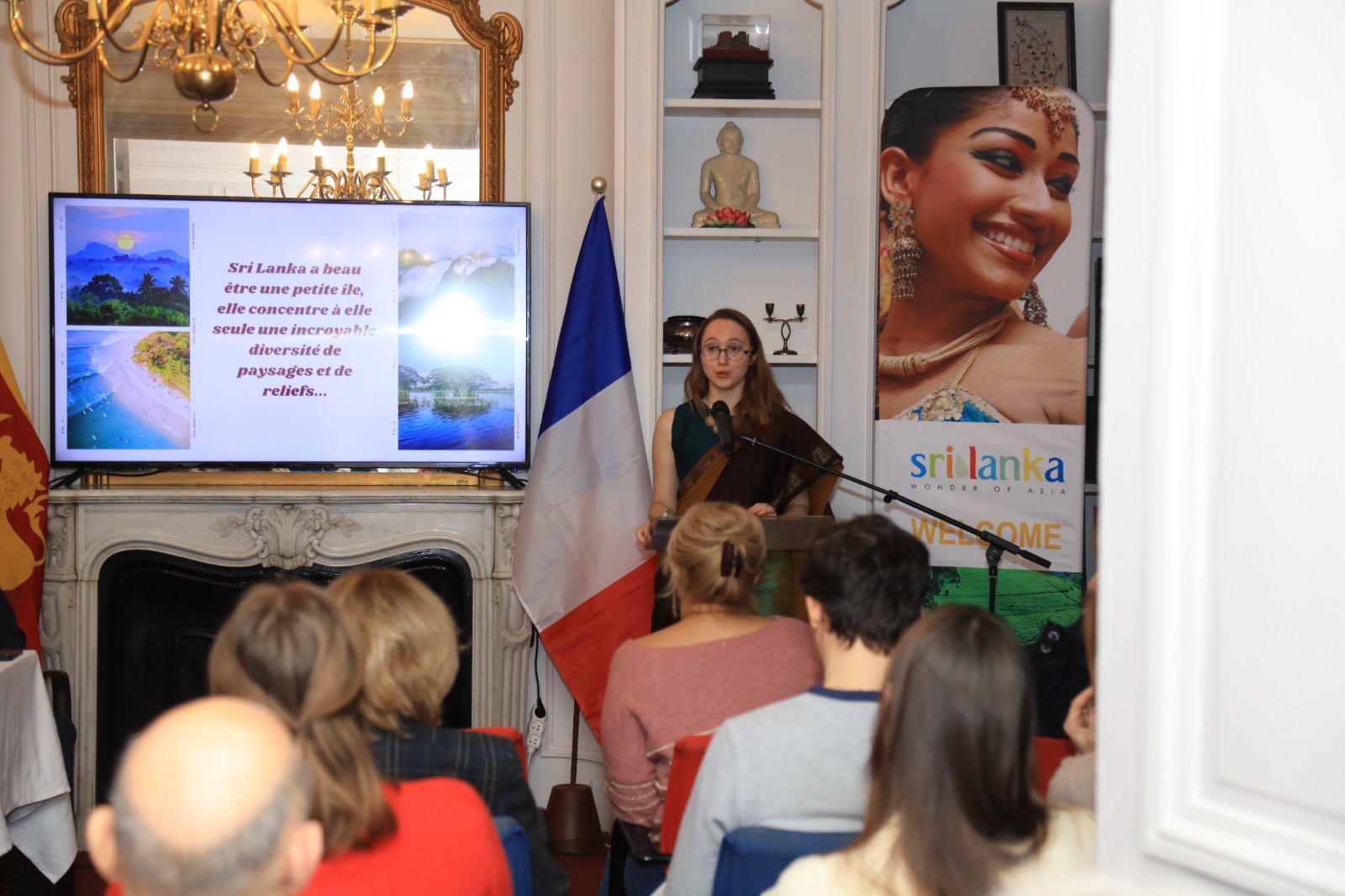 The Embassy of Sri Lanka in France, in collaboration with the Sri Lanka Tourism Promotion Bureau, organized a media briefing featuring the many attractions of Sri Lanka at the Embassy premises in Paris on Tuesday 4th April 2023.  The interactive press event attended by over 25 French travel and tourism media personnel, was organized to apprise the French traveler that Sri Lanka is once again open for tourism with a state-of-the-art service on offer.  The event encouraged the French media to explore Sri Lanka as their next travel destination "to market" as well as "to visit".
Sri Lanka's Ambassador to France Manisha Gunesekera informed the gathering that Sri Lanka welcomed the year 2023 in a positive spirit with much expectation, having overcome the challenges of the past three years.  She informed that Sri Lankans are a resilient people, in addition to being friendly and hospitable, and the country at present is vibrant and welcoming.  The media was apprised on the tangible measures taken by the Government to facilitate the continued and uninterrupted supply of fuel, electricity, gas and other essentials, as well as to ensure the comfort and safety of tourists, including women travelers.  The Ambassador highlighted the success of the recent internationally renowned French women adventure challenge tour "Raid Amazones" to Sri Lanka, for the second consecutive year, as proof of the quality and vitality of the Sri Lanka tourism market.  
SriLankan Airlines Country Manager for France Asiri Wickramasuriya made a presentation on the flag carrier SriLankan airlines and elaborated on the quality of service on offer to the French traveler.  He also highlighted the efficacy of connectivity provided between Paris and Colombo by the airline.
The Embassy in a presentation highlighted the multifaceted attractions of Sri Lanka as a top tourism destination in the world, with a focus on areas of special interest to the French traveler.   A tourism video with updated information on Sri Lanka was also screened.  The participants received with enthusiasm the news of the FAM tour that will be organized as a follow-up to the media briefing, in collaboration with Sri Lanka Tourism and SriLankan airlines.
The event was attended by media representing the TV channel France 24; French travel magazines 16 Mag, Easy Voyage, Grand Sud Mag, Escapade Magazine, Guide du Routard, Voyage Magazine, Life and Style; and travel websites www.infotravel.fr, www.singulars.fr, www.levasiondessens.com, www.lindigo-mag.com. The event was supported by First Secretary / Commerce Gayan Rajapakse of the Embassy.
France is placed among the top five source markets for tourism in Sri Lanka. During the first three months of 2023 Sri Lanka received 16,744 tourists from France, amounting to 5 percent of total tourist arrivals for the period.
Embassy of Sri Lanka
France
07 April 2023