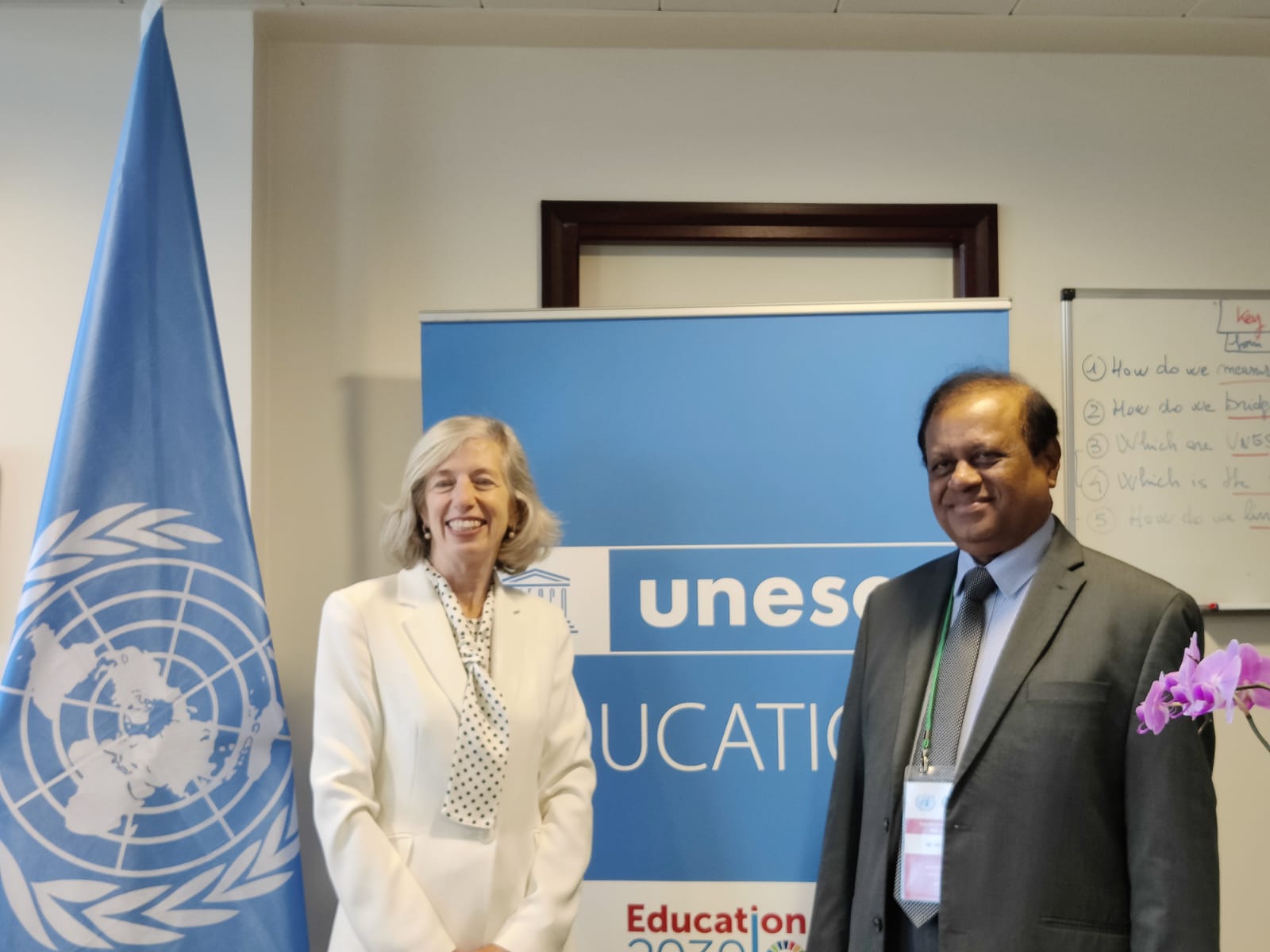 Minister of Education Dr Susil Premajayantha led Sri Lanka Delegation at the high-level Ministerial meeting Transforming Education Pre-summit on 29-30 July held at the UNESCO Headquarters
Education Ministers and Vice-Ministers of 154 countries and nearly 2000 participants including various non-state actors came together to discuss transforming education.
During the Pre-Summit Minister Premajaynatha met with several key non state actors who are specialised in providing "Innovative Finance to Unlock Critical Education Investments in Lower Middle-Income Countries"
Intervention of the Minister at a side event on International Finance Facility for Education (IFFEd) organized by 'the Education Commission", a global initiative founded to achieve SDG 04, underlined the importance of ground-breaking financial innovations to countries like Sri Lanka to deliver additional and more affordable education.
During a productive bilateral meeting with the Executive Director of the 'the Education Commission', it was agreed to consider the possibilities to obtain financial support of IFFEd to Sri Lanka.
Delivering his remarks during the Ministerial Round Table Minister, Premajayantha highlighted capacity building of teachers, learning skills for life, sustainable development and redressing of gaps in digital literacy as well as provision of STEM education.
Further during his remarks, the Minister urged the international community to; not view education as a consumption but as an investment with long term returns. He also stressed on the importance of continuous dialogues between the Ministries of Education and Finance, the IMF, World Bank, ADB and other multi/bi stakeholder donors.
In addition, the Minister had bilateral meetings with Ms. Stefania Giannini, Assistant Director General (ADG) of Education, and Dr Shamila Nair-Bedouelle, Assistant Director General (ADG) of Science, UNESCO.
During the meeting with the two ADGs the Minister briefed on different areas that can be explored to develop employment skills for high school dropouts, implementing projects to promote STEM education. Assistant Director General (ADG) of Science also suggested Sri Lanka to initiate water museums and floating mangroves together with international donors.
Prof. Kshanika Hirimburegama, Permanent Delegate of Sri Lanka to UNESCO expressed Sri Lanka's appreciation to ADG/Science for the granting of science tool kits in promotion of STEM education among schools in Sri Lanka.
The Pre-Summit, a precursor to the Transforming Education Head of State-level Summit, convened by the UN Secretary-General in New York this September comes after more than two years of the most massive disruption in learning in recorded history, brought on by the COVID-19 pandemic.
The two day pre-summit was very productive for Sri Lanka in advancing education throughout the country. Hon Ministers presence illustrated the visibility of Sri Lanka that was very important.
Embassy of Sri Lanka
Paris                                               
01.07.2022