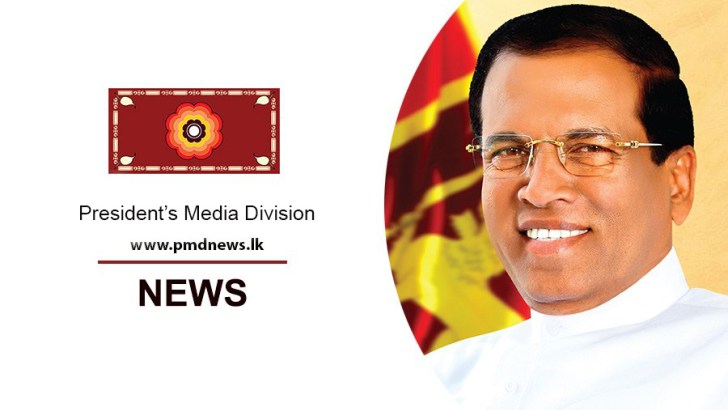 Appointing a Prime Minister, removing the former Prime Minister, proroguing the Parliament, dissolution of Parliament, dissolving the cabinet, were all done by him legally and he has not  done anything in violation of the constitution, President Maithripala Sirisena said.
Addressing the foreign media personnel at President's house  today (25), President Sirisena said that the people of this country appointed him as President on 8th of January 2015 with pure intentions towards  carrying out a clean administration. However, although this journey was interrupted by the massive monetary fraud occurred in the Central Bank within three months after Ranil Wickremesighe was appointed as the Prime Minister.
The irregularities occurred constantly due to the stubborn and short sighted conducted carried out by the former Prime Minister and finally he had to choose a new path by removing him for the sake the people of the country, said the President.
If he is to govern the country with the corrupted parties who had intentions even to assassinate him he too has to become a corrupted politician with motives to accomplish personal gains, said the President. He said that was not his policy and that he always fought against corruption, frauds and malpractices and will always respect democracy and would work in accordance with the constitution.
The no confidence motion in the parliament on November 14th was not presented respecting the parliamentary traditions since Standing Orders clearly state how a no confidence motion is presented and what procedure should be followed for adoption of a no confidence motion, the President pointed out. In an important motion related to establishing a new government or changing a government, there should be a clear voting system either to use the electronic system or to call upon votes by name and a voice vote cannot be accepted, President Sirisena said. He added that he is grateful that the speaker and the party members   accepted his request regarding this matter and conducted the duties accordingly.
The President further mentioned that he would not make Mr Ranil Wickremesighe Prime minister again and that he has clearly informed this to the United National Party.
President Sirisena said a presidential commission will be appointed to inquire into the fraud in Central Bank as well as other acts of fraud and corruption occurred during the period of  2015 to 25th of October 2018 while Ranil Wickremesighe was the  Prime Minister and that would reveal more issues  on  fraud and corruption happened during that period to the country as well as to the people in the near future, said the President.
Source: PMD News (FA) Sanday November 25th, 2018