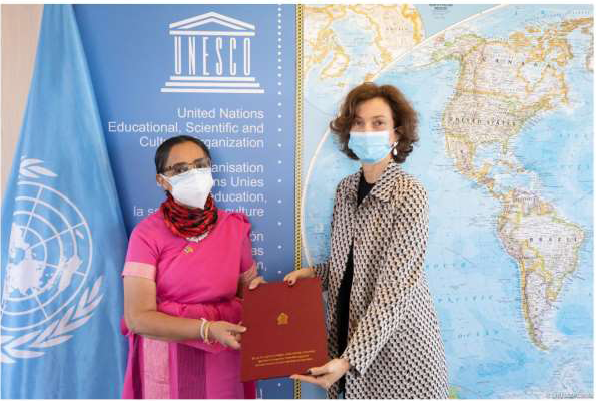 At a ceremony held on 16th April 2021 at the Headquarters of UNESCO in Paris, Ambassador Prof Mrs Kshanika Hirimburegama presented her credentials to the Director General of UNESCO Ms Audrey Azoulay, as Sri Lanka's Permanent Delegate to the United Nations Education, Science and Cultural Organization (UNESCO).
During the ensuing conversation, Ambassador Kshanika Hirimburegama outlined the steady progress accomplished by Sri Lanka in strengthening relationship with UNESCO. She also mentioned that Sri Lanka has several important cultural sites that could also be considered under the auspices of UNESCO.
The Director-General of UNESCO, Ms Audrey Azoulay in her remarks, commended the contributions made by Sri Lanka to the work of UNESCO. Having the South Asia Center for Teacher Development (SACTD) under the auspices of UNESCO.
Further avenues of collaborations with UNESCO were also discussed.  
The Embassy of Sri Lanka/Permanent Delegation of Sri Lanka to UNESCO
France
19 April 2021